FIELD WATCH
ONION CROWN KING
The Onion Crown King celebrates Gerd-Rüdiger Lang's reinterpretation of the onion crown which he popularized with the launch of ChronoSwiss in 1983 earing him the nickname, The Onion King. The watch's embossed Roman numeral dial and iconic onion crown resonates with Gerd-Rüdiger Lang signature: the "oversized onion crown", while Romaric André's visionary touch reimagines the second hand with the crowned onion. Its rhythmic motion isn't just keeping time, but an homage to a man who has changed watchmaking through his passion for functionality and the intricacy of the mechanics involved. The collaboration is limited to 25 pieces.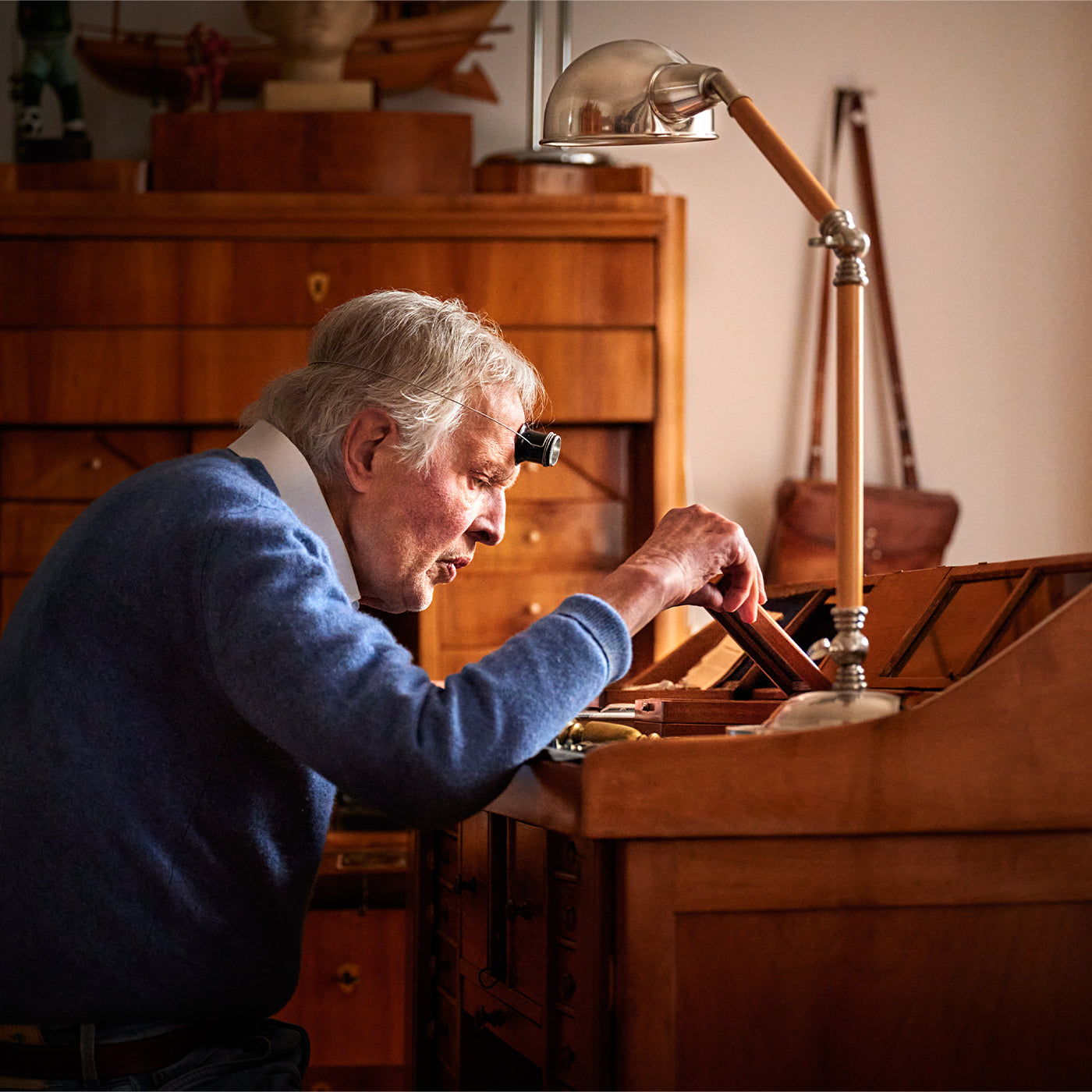 Timeless Untold Stories
Gerd-Rüdiger Lang is admired for his gracious ability in bringing to life what was once forgotten and catapulting the technical prowess into commercially viable solutions. His creative ingenuity was unparalleled, as evident through his innovations such as reviving and modernising the Onion Crown, a symbol of elegance and functionality that remains a hallmark of his artistry. His pioneering spirit also led to the development of the sapphire case back for commercial use in a wrist watch; an innovation that revealed the intricate movements, once hidden, in all their splendor. The innovation did not stop there; he also introduced the regulator, further solidifying his status as a master craftsman.
x seconde/seconde/
A Duet of Genius
Romaric André, known in horological circles as seconde/seconde/, is a French creative talent whose transformative touch has redefined the concept of timekeeping aesthetics. His international acclaim for customizing vintage watches from leading brands makes him a luminary in his own right. When the creative mind behind seconde/seconde/ collaborated with us at LANG 1943, horological history took on a new dimension.

Gerd-Rüdiger Lang's legacy is further celebrated through this unique partnership with seconde/seconde/. The collaboration resulted in two limited edition masterpieces that showcase Gerd-Rüdiger Lang's genius and craftsmanship, offering a glimpse into his humble contributions to the horological world. seconde/seconde/ expertise in elevating the sub-second dial design brings an avant-garde touch to Gerd-Rüdiger Lang's timeless creations.

After LANG 1943's successful launch in 2022, seconde/seconde/ was given 'carte blanche' to address untold stories using his signature, meaning his ability to creatively amplify and reimagine the sub-second dial. It may not be known but the design 'imposed' by Romaric of the hand had various impacts, forcing the engineers to rethink few steps being 50 times heavier than the traditional hand of any standard watch second hand.  This is how Field Watch - Onion Crown King and A Lang & Sun were born.
Field Watch
A Lang & sun
A Lang & Sun stands as a wordplay of brilliance - capturing Gerd-Rüdiger Lang's extroverted essence. seconde/seconde/ touch daubs the second sub-dial with the image of a sun making the watch undeniably "A Lang & Sun" - a tribute to all great German watchmakers. Not only is this piece a creative play on words, but a recognition of Rüdiger's German heritage and his connection to German watchmaking. A Lang & Sun isn't just a timepiece, it's Gerd-Rüdiger Lang's portrait, capturing his cheeky creative essence.